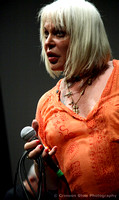 When a band waits 30 years before playing their first ever Scottish show, they run the risk that they're time will have already passed and that the Scots will have forgotten them. Thankfully, there's no such worry for undeniably ageing industrial pioneers Throbbing Gristle, as the buzzing crowds filling the cavernous converted space of Glasgow's Tramway venue prove that the band's pulling power has only increased over the years that they've ascended to iconic counter-cultural heights.
Beginning with an improvised instrumental soundtrack to a grainy black and white film by artist Cerith Wyn Evans, Throbbing Gristle's first set is a darkly ambient accompaniment of slowly pulsing heartbeat bass thud and tortured electronics, sadly let down by the band's seeming disinterest in proceedings and the overblown obliqueness of Evans' creeping images.
When, after a short DJ break, Throbbing Gristle return to the stage for a celebratory greatest hits set, the die-hards' years of waiting are finally proved worth it. With the stage swathed in light and the crowd craning over Genesis P-Orridge's every move, Throbbing Gristle power through a rapturously received set of classics and hits, obviously enjoying highlights such as the aggressive stomp of 'Discipline' or 'Persuasion's eerie dirge, while 'Almost A Kiss' avoids mawkishness to become heartbreakingly poignant.
While they've lost none of their individualism, and can still tap into their original punk power, when Throbbing Gristle bow out, sans encore even after all this time, it is their emotional honesty and intensity, and, in particular, Genesis' amazing connection with the fans and audience that sticks most searingly in the mind. Here's hoping that the wait is never quite so long again.
Photos of this gig available
here
.
Throbbing Gristle
A=P=P=A=R=I=T=I=O=N